The bidding column is perhaps the most important part of our auction platform. There you will find information about the lot's expiry date, the current bid and you can make your own bid. Time to explore.
The essentials: bidding on whisky
Fifty dollar bid, now sixty, now sixty, will ya' give me sixty?
In an online auction, things are slightly different, but basically it is similar. Someone places a bid and if someone else wants the same bottle, they will have to place a higher bid. The new bid is checked, and if it is valid, placed.
The bidcolumn is part of te detail view of each lot. Here we have placed all the useful and necessary tools that you will need to make a good bid:
Information on a possible reserve price

Bid status, if you have bid

Countdown timer to the end of the auction

Option to place a bid directly or as an autobid
For extra convenience, you can also bid on your favourite lots or on the lots you have already placed a bid on directly from your dashboard.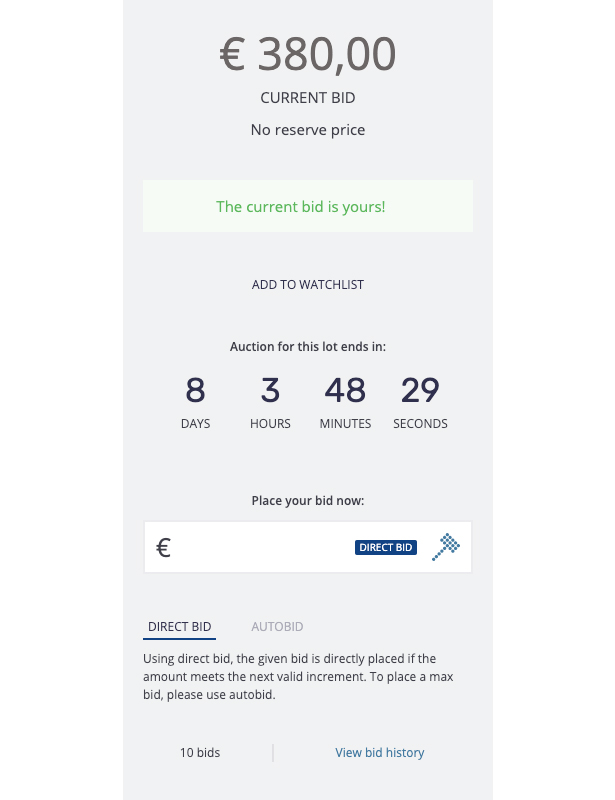 This is the bid column that you will find in the details view of a lot. This panel contains everything you need to place a good bid.
Clear display of the highest bid. Updated live so you always have the latest information.
With a reserve price, you can prevent the bottle from being sold too cheaply. It is a kind of insurance.
Did you bid on a bottle? Here you can find information on whether you own the highest bid.
Add lots to your watchlist so you can find them quickly on your dashboard.
Make sure you place a bid before the timer reaches 0. Do you have the highest bid and has any reserve price been met? The bottle is yours!
Found an interesting bottle? Place a bid. You will immediately see if the bid is valid and can be processed.
Have a maximum bid in mind? Place that bid as an autobid and the system will bid for you as smart as possible, ensuring that you always have the highest bid (until your maximum bid is reached).
Here you find all previous bids for this bottle.